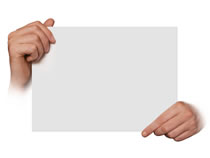 Life is crazy. I now have three jobs, a promotion, one father in the hospital (out of surgery and recovering overnight), and no partridge in a pear tree. A shame since a pear sounds absolutely delicious right now...
In my down time, I've decided that I should only label my posts with song titles. That's my greatest achievement of the last two weeks. Other than the fact that I have burnt a hole in my Death Cab CD on track 11. My play count for "The Ice is Getting Thinner" has now skyrocketed to 178. And, wait for it..... I've spent way over my music budget in the last month. Shocking, eh? Pretty soon I'll be the most musically savvy homeless person on The Ave. Sure I'll have 17,659 songs on my Pod (I get it God - gluttony is a sin) but no place to sleep with the privilege of a door.
This week's headline comes ripped from The National's new EP,
The Virginia
. My fav track being the somber leadoff, "You've Done it Again, Virginia." However "Blank Slate" seemed to more accurately reflect my mood. Because I'm a woman, masochism is like breathing. And for some reason we like to believe we have all these fresh starts available whenever we need them. 95% of the time we're falsely naive, or otherwise mislead by the latest issue of
Self
or
Cosmopolitan.
Life doesn't really have a reset button or instant replay, no matter how much we want to believe the self-help section.
Freud's widely discredited theory of female masochism claims that cause of our pesky extra chromosome, our XX brains confuse basic concepts like pleasure and pain. By the time we're old enough to have some guy call us fat, disorientation kicks in, and we learn to love the insults. Touche (obviously sexist, antisemitic, and probably racist) Freud, touche. It sure explains why assholes who daily trash our self-esteem will always win our hearts over nice guys. Or even the moderately respectful, and occasionally polite.
In the face of reason, today is one of those days I'm into banking on a fresh start. And what goes better with a blank slate than anything? Seeing as it's blank, most everything. But I'm talking music. Mixtapes to be specific.
MGMT - Time to Pretend [ysi]
Addicting. Lyrically this song is genius, describing our generation to a T. The first time I looked at the lyrics I laughed, nearly cried, laughed again, and turned up the volume.
Bitter:Sweet - The Bomb
Jamie T - Sheila [ysi]
The Bar-Kays - Too Hot to Stop [ysi]
If you're feeling crummy, just flip on the first three minutes of Superbad, which, thanks to this band are completely unforgettable. Their career was tragically cut short by the same plane crash that stole musical genius Otis Redding. Fortunately, we have tracks like these to keep their message of soul alive.

NERD ft. Kanye West - Everyone Nose (Official Remix) [ysi]
Not awesome, but much better than the orig. What can you say about a song dedicated to the cocaine lifestyle of the rich and famous? I know! All the girls standing in line for the bathroom.