Arrested Fans come together on this one: a movie is in the works! If I don't get to see Tobias, (that blowhard) on tv anymore, I still might be able to watch him and Gobias Industries on the silver screen!
Take a look at this post from the amazing blog, "The Playlist". I take
NO
credit for the following life-alterning, newsbreak story...
Steve Holt! 'Arrested Development' Movie Becoming A Reality?!?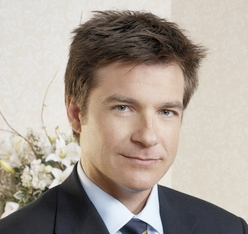 Attention all never-nudes, banana stand employees, 'Poof!' magician subscribers and those who may or may not have committed light treason,

the Bluth family

might be returning for a big-screen version of the much-beloved and prematurely cancelled TV sitcom "

Arrested Development

."

Talk about a feature-film adaptation of the
show have been going on since the last episode when in a meta, inside-joke moment, cousin

Maeby

sold the Bluthe family rights to

Ron Howard

- the real life producer of the show and uncredited narrator (and a pretty good one at that, above average of most shoddy narrators).

Leading the charge for the big-screen reunion was lead actor

Jason Bateman

(

Michael Bluthe

) who confirmed to E!Online today that talks are indeed moving forward. "I can confirm that a round of sniffing has started," Bateman said. "Any talk is targeting a poststrike situation, of course. I think, as always, that it's a question of whether the people with the money are willing to give our leader, [series creator]

Mitch Hurwitz

, what he deserves for his participation. And I can speak for the cast when I say our fingers are crossed."


Jeffrey Tambor

who played the bumbling patriarch,

George Bluth

, also told XM Radio's the Ron and Fez Show that he had been approached by Ron Howard to see whether he was willing to do an "Arrested Development" film. "I think we have good news, I think we're going to make a movie," Tambor said. "There's a real push to get movie made."

Bateman recently stoked the 'Arrested' embers in December of last year telling MTV News that creator Mitchell Hurwitz, bored during the writer's strike was getting an itchy creative urge. "This writers strike, it's a devil's playground," grinned Bateman. "The guy doesn't have anything to do. [During the strike] you're allowed to write things you're not being paid to do. I'm trying to talk [Hurwitz] into writing the 'Arrested Development' movie. And he could be coming around."


E! claims sources tell them that other cast members (who include among

Michael Cera, Will Arnett, Portia de Rossi

, and

David Cross)

have also been contacted about their interest in participating and that everyone seems to be excited and onboard.

Fingers crossed everyone. Now if you don't mind, we're going to do our version of the chicken dance in cautious celebration.

Oh, C'mon!

[cue "The Final Countdown"] Just remember: just because there's a writer's strike doesn't mean you can't

write

a script for the hell of it. AM I RITE!? AM I RITE!?